My name is Tempestt Patterson and I am the writer, reviewer and photographer at temppatt.
temppatt is an entertainment website that started in 2008. It features music, movies, television, technology, books, beauty, fashion, New York events and product news and reviews. It also features various giveaways. This site is geared towards children, teens and adults.
The site currently has 909,254 page views and a monthly unique visitor count of 8,178.
I've been writing professionally for more than 8 years. I have contributed entertainment, technology and other features to websites such as Blogcritics, Examiner, AXS, BleacherReport, Buzznet and more.
Hope you enjoy your visit!
Thank you,


Contact:
Contact can consist of/ but is not limited to:
>Reviewing a product
>Promoting a product
>Hosting a giveaway/contest/promotion
>Blogger Opp/Sponsored Post
>Event Coverage
>Interview
>Link Exchange
>Ad Placement
>Questions/Comments
*PR Friendly Blog*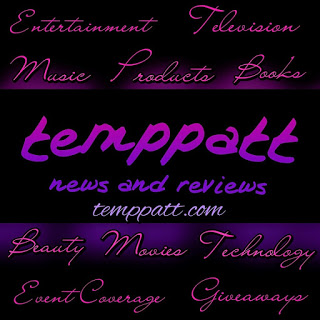 temppatt's Disclosure:
This policy is valid from 01 August 2017
This blog is a personal blog written and edited by me. This blog does not accept any form of monetarily compensated articles/reviews, sponsorship, pay-to-post, pay-per-post, or paid topic (or article) insertions. However, we will and do accept and keep free products, event tickets and/or services from companies and organizations.
Accepting these products and/or services is only used for experience-based reviews on the site temppatt, and further, does not guarantee a review or mention; nor does it guarantee a positive and/or favorable review.
The compensation received will never influence the content, topics or posts made in this blog. All advertising is in the form of advertisements generated by a third party ad network. Those advertisements will be identified as paid advertisements and are made visible in the sidebars of this site.
The owner of this blog is not compensated to provide opinion on products, services, websites and various other topics. The views and opinions expressed on this blog are purely the blog owners. If we claim or appear to be experts on a certain topic or product or service area, we will only endorse products or services that we believe, based on our expertise, are worthy of such endorsement. Any product claim, statistic, quote or other representation about a product or service should be verified with the manufacturer or provider.
This blog does not contain any content which might present a conflict of interest.
To get your own policy, go to http://www.disclosurepolicy.org
temppatt's Privacy Policy:
This policy is valid from 01 December 2017
This blog does not share personal information with third parties nor do we store any information about your visit to this blog other than to analyze and optimize your content and reading experience through the use of cookies.
You can turn off the use of cookies at anytime by changing your specific browser settings.
We are not responsible for republished content from this blog on other blogs or websites without our permission.
This privacy policy is subject to change.
If you have any questions feel free to contact me directly here: temppatt.com@gmail.com.
Masthead:
Tempestt Patterson – writer/reviewer/photographer