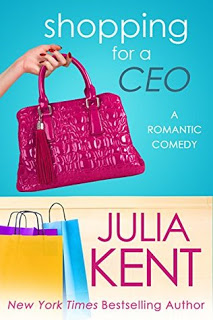 Shopping for a CEO
by Julia Kent
(Shopping for a Billionaire, #7)
Publication date:
September 29th 2015
Genres: Comedy, New Adult, Romance
Synopsis:
I'm thrilled to be the maid of honor in my friend's wedding, but the best man, Andrew McCormick, is a chauvinistic pig with a God complex.
And I can't stop kissing him in closets.
(Don't ask.)
He's the brother of the groom and the CEO of my biggest mystery shopping account, but suddenly he's refusing to be in the wedding. He won't talk about it. Won't see reason.
He's such a man.
And he still won't stop kissing me in random closets.
(Thank goodness.)
I'm a fixer. That's what I do. I can fix anything if given the chance. But when the game is fixed there's only so much I can do.
The ball's in his court now.
Game on.
* * *
Shopping for a CEO is the 7th book in the New York Times and USA Today bestselling Shopping series. When CEO Andrew McCormick and mystery shopper Amanda Harrington find themselves in the unlikely position as maid of honor and best man in the Boston society wedding of the year, an undeniable attraction and dual stubborn streaks add fuel to the fire in this romantic comedy from Julia Kent.
Goodreads:
Purchase:
Amazon:
B&N:
Author Bio:
New York Times and USA Today Bestselling Author Julia Kent turned to writing contemporary romance after deciding that life is too short not to have fun. She writes romantic comedy with an edge, and new adult books that push contemporary boundaries. From billionaires to BBWs to rock stars, Julia finds a sensual, goofy joy in every book she writes, but unlike Trevor from Random Acts of Crazy, she has never kissed a chicken.
Author links:
Blitz-wide Giveaway:
The Blitz-wide Giveaway gives you the chance to win a $25 gift card to Starbucks plus a signed copy of Shopping for a CEO by Julia Kent. This giveaway is open internationally and ends on Thursday October 8th, 2015.
To Be Entered:
Use the Rafflecopter widget below.
Good luck,