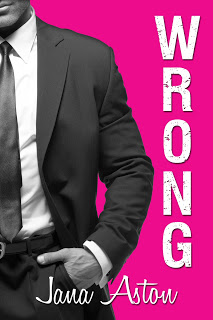 Wrong by Jana Aston
Publication date:
October 7th 2015
Genres: Adult, Contemporary, Romance
Synopsis:
I have a history of picking the wrong guy. Gay? Player? Momma's boy? Check, check and check.
Now I can't stop fantasizing about one of the customers at the coffee shop I work at between classes. It's just a harmless crush, right? It's not like I ever see this guy outside of the coffee shop. It's not like I'm going to see him while attempting to get birth control at the student clinic. While wearing a paper gown. While sitting on an exam table. Because he's the doctor. Shoot. Me.
But what if, for once, the man I've had the dirtiest, most scandalous fantasies about turned out to be everything but wrong?
Wrong is a full-length, standalone novel by Jana Aston
Goodreads:
Purchase:
Amazon:
B&N:
Author Bio:
Jana Aston works a really boring day job. Really. Boring. In her spare time she loves to read sexy romance novels, especially if they involve an alpha CEO. Wrong is her first novel.
Author Links:
Goodreads:
Facebook:
Twitter:
Newsletter:
Blitz-wide Giveaway:
The Blitz-wide Giveaway gives you the chance to win an $100 Amazon Gift Card, Classy B*tch Socks and a COACH Wristlet. This giveaway is open internationally.
To Be Entered:
Use the Rafflecopter widget below.
Good luck,