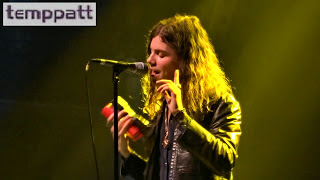 BØRNS performing at Terminal 5
– Tempestt Patterson/flickr.com/photos/temppatt
On Wednesday night, a capacity crowd of BØRNS fans packed into Terminal 5. This chill night was perfect for an evening full with indie-pop vibes.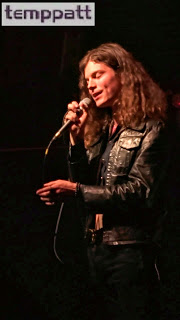 BØRNS performing to a sold-out crowd at Terminal 5
– Tempestt Patterson/flickr.com/photos/temppatt
Before BØRNS took the stage, the audience was treated to performances by two bands. The first band was a duo of native New Yorkers named Beau. The female duo (Heather Golden on vocals and Emma Jenney on guitar) rocked the crowd with their folk pop sound. Some of the songs they played were "Leave Me Be," "One Wing" and closed their set with their latest single "Animal Kingdom."
The last opening band was a duo from the West Coast named Coast Modern. The male duo (Luke Atlas on vocals and Coleman Trapp on guitar) played an infusion of electro-pop with elements of hip-hop and indie rock. Some of their set included "Guru," "Animals" and closed with their first single "Hollow Life."
Michigan born singer/songwriter Garrett Borns, better known by his stage name BØRNS, took the stage with a cup in hand singing and dancing to "Seeing Stars." He continued by performing "Dug My Heart" and made the crowd happy performing "Dopamine." BØRNS showed off his talents on the guitar during "10,000 Emerald Pools" and during an acoustic performance of "Clouds."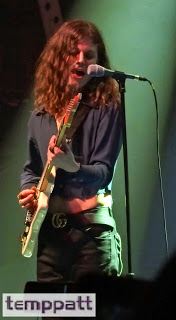 BØRNS playing guitar at Terminal 5
– Tempestt Patterson/flickr.com/photos/temppatt
BØRNS rocked the show in a black leather jacket before removing it to the roar of crowd during "Holy Ghost." His loose wavy hair, cool blue halter top and jeans synced with the shows enjoyable mellow vibes. The show featured sing alongs throughout. During the intro to "Past Lives," BØRNS stopped singing and smiled as he held the microphone out for the loud and amazing sold-out crowd singing. Some other notable sing alongs came during "Overnight Sensation," "American Money" and his hit single "Electric Love."
BØRNS delivered clean and smooth vocals throughout while performing every song from his debut studio album, Dopamine. While attending a BØRNS live show, it's impossible not to get struck by the electric sound and venue full of electric love!
Here is a video clip from
my YouTube page
of BØRNS performing "Dopamine" and " Electric Love" live at Terminal 5.
Photo Credit:
The photos used was taken and owned by me. If you use any of the photos, please credit Tempestt Patterson –
flickr.com/photos/temppatt
.
Disclosure:
This is a live review of BØRNS concert from May 25, 2016 at 8 p.m. at Terminal 5. I was not compensated for this post. Reviews are based on personal opinion and not influenced in any way. Comments concerning reviews from attendees about their opinion is encouraged and welcome through the comment board.