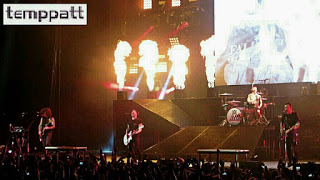 Fall Out Boy performing at Barclays Center
– Tempestt Patterson/flickr.com/photos/temppatt
Fall Out Boy
is back and was ready to Rock and Roll with the sold out crowd in
attendance at the Barclays Center. Fall Out Boy's "Save Rock and Roll
Tour" featured a powerhouse lineup of openers including Twenty One Pilots and Panic! at the Disco.
The show kicked off with the Alternative Hip Hop duo Twenty One
Pilots. Their set included performances of hits like "Holding On To
You," "Car Radio" and "Migraine." They rapped, singed and at times
wore ski masks while playing the drums and piano. Not knowing what was
coming next kept the crowd entertained with the energetic group.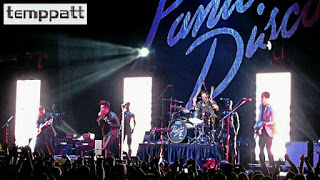 Panic! at the Disco performing at Barclays Center
– Tempestt Patterson/flickr.com/photos/temppatt
Next to take the stage was Alternative Rock band Panic! at
the Disco. Their stage setup included an elaborate backdrop showcasing
the band's name and various mannequins. They began with intense lights
that lead right into the performance of "Time to Dance." They
continued the dance party with "The Ballad of Mona Lisa" and "The
Only Difference Between Martyrdom and Suicide is Press." Panic! at the
Disco's high energy set included hits and even some new songs from their
upcoming album "Too Weird To Live, Too Rare To Die!" out October 8th
like the latest single "This is Gospel" and the first single "Miss
Jackson" with special guest Lolo. The set closed with the crowd singing
along to performances of P!ATD hits "But It's Better If You Do" and
"I Write Sins Not Tragedies."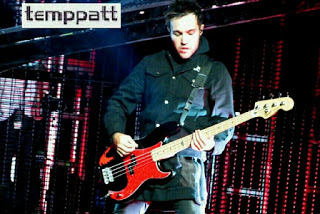 Fall Out Boy performing at Barclays Center
– Tempestt Patterson/flickr.com/photos/temppatt
The lights dimmed and screams erupted throughout the Barclays Center
as Fall Out Boy took the stage. They opened with "The Phoenix" wearing
ski masks and waving white "FOB" flags. The ski masks were taken off
and "I Slept With Someone In Fall Out Boy And All I Got Was This Stupid
Song Written About Me" and "A Little Less Sixteen Candles, A Little
More "Touch Me"" from the hit album "From Under the Cork Tree" were
performed.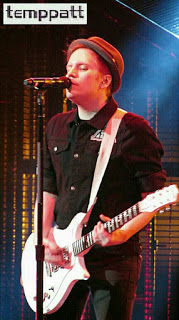 Fall Out Boy performing at Barclays Center
– Tempestt Patterson/flickr.com/photos/temppatt
Fall Out Boy's setlist included a great mix of songs from their first
release "Take This To Your Grave" to the latest release "Save Rock
and Roll." Some songs performed were "This Ain't A Scene, It's An Arms
Race," "The Take Over, The Break's Over," "Alone Together," and
"Sugar, We're Goin Down." They even performed "20 Dollar Nose bleed"
with P!ATD's Brendon Urie and covers of "I Wanna Be Sedated" and
"Blitzkrieg Bop" with special guest Marty Ramone of The Ramones on
drums.
The multilevel stage, interactive onstage video screen and
mesmerizing lights just enhanced the stellar performances. If it was
possible for there not to be enough happening on the main stage, halfway
through their set Fall Out Boy played a second stage located on General
Admission floor. With this being such an up close and personal
location, Fall Out Boy took this opportunity to perform acoustic. They
played "I'm Like A Lawyer With The Way I'm Always Trying To Get You Off
(Me & You)" before being joined onstage by Travie McCoy for a
special performance of "Billionaire." Fall Out Boy performed an
acoustic version of "Grand Theft Autumn (Where Is Your Boy)" before
heading back to the main stage.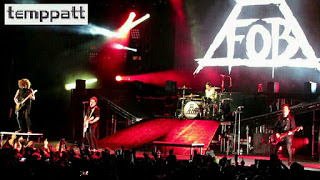 Fall Out Boy performing at Barclays Center
– Tempestt Patterson/flickr.com/photos/temppatt
Back on the main stage it was time to dance to "Dance Dance"
before flames took over the stage for "My Songs Know What You Did in
the Dark (Light Em Up)." The amped up crowd was treated to an encore
that included "Save Rock and Roll," a crowd photo with FOB during
"Thanks for the Memories" and an unforgettable closing to the Saturday
evening with "Saturday."
Fall Out Boy delivered an action packed hit filled set that made
everyone in attendance beyond happy that they survived the hiatus.
To see more of my photos from the "Save Rock and Roll Tour," visit flickr.com/photos/temppatt.
Photo Credit:
The photos used was taken and owned by me. If you use any of the photos, please credit Tempestt Patterson –
flickr.com/photos/temppatt
.
Disclosure:
This is a live review of Fall Out Boy's concert from September 7, 2013 at Barclays Center. I received free tickets to attend and review this event but I was not compensated for this post. Reviews are based on personal opinion and not influenced in any way.