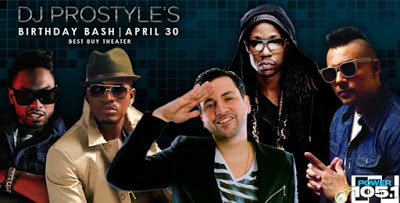 Photo Credit: bestbuytheater.com
Power 105.1 will present DJ Prostyle's Birthday Bash on April 30th at the Best Buy Theater
in New York. This year marks the third annual Birthday Bash for DJ
Prostyle.
This year the iHeartRadio personality and frequent Good
Morning America DJ will be joined on stage by Grammy winning R&B
singers Miguel and Ne-Yo, rapper 2 Chainz, and dancehall/reggae artist Sean Paul.
In
previous years, performers like Chris Brown, Ciara, Wale and more have
taken the stage. Don't miss out on the hottest birthday celebration of
the year!
Tickets is available for purchase at AXS.com, BestBuyTheater.com,
and the Best Buy Theater box office. Be sure to listen to DJ Prostyle
on NYC's hottest Hip-Hop/R&B station Power 105.1 weekdays from
2pm-6pm for a chance to win tickets for the bash throughout April.