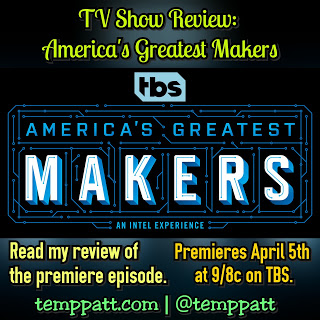 America's Greatest Makers is an unscripted reality TV show presented by Intel and TBS. The show documents inventors competing to make the next breakthrough in technology. The 24 maker teams from across the U.S compete for the grand prize of 1 million dollars.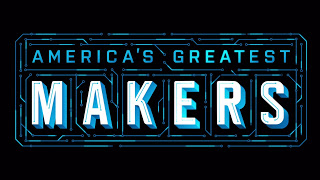 America's Greatest Makers Logo –
Photo Credit: americasgreatestmakers.com
I had the pleasure of viewing the first episode titled "Episode 1: Opening Pitches, Part 1." In this episode, the judges are presented with the best pitches submitted through a casting process. The pitches were presented with hopes of making it into the "Make or Break" round.
The rounds are judged by three expert judges and a different guest judge each week. The reoccurring judges are Chief Executive Officer of Intel Brian Krzanich, TV personality/producer/entrepreneur Kevin Pereira and TV personality/bestselling author/investor Carol Roth. The first week's guest judge was retired professional basketball player Kenny Smith.
Some of the innovative inventions shown was an invention to get kids excited about brushing their teeth, a pet lost prevention system, fashion technology kits inspiring girls interest in technology, an arm band tracking medical data and so much more.
Unfortunately, every team of makers doesn't make it into the "Make or Break" round. You'll have to watch the premiere on Tuesday April 5 at 9/8c on TBS to see what groundbreaking technology is showcased and watch this season to see which team is crowned "America's Greatest Makers."
This show is perfect for fans of
Shark Tank
and
Beyond the Tank
. Witnessing the inventors pitch and perfect their products is enjoyable to watch for everyone especially technology fanatics.
Here is a preview of America's Greatest Makers:
Disclosure: I received early access to view and review this show, but no monetary compensation. Reviews are based on personal opinion. Individual viewer opinion may vary. Comments concerning reviews from viewers about their opinion are encouraged and welcome through the comment board.