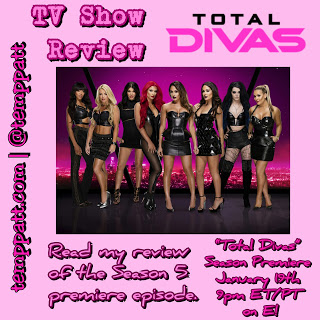 On January 19th, E! is premiering the fifth season of the hit series "Total Divas." The show gives viewers an exclusive look at the lives of WWE Divas from their work within WWE to their personal lives. This season follows The Bella Twins (Nikki and Brie Bella), Natalya (Nattie), Eva Marie, Paige, Rosa Mendes and Alicia Fox. Joining the cast this season is Season 6 of Tough Enough runner-up Amanda Saccomanno (Mandy).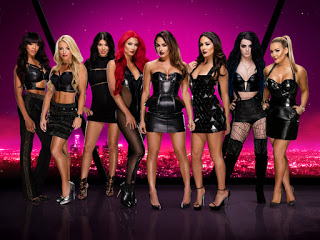 The season five cast of E!'s hit reality series "Total Divas"
Photo Credit: eonline.com
This season will show Nikki and Brie having conflict as their lives and careers head in different directions. The Bella Twins careers become in jeopardy when Nikki suffers an injury during her final days as champion. Eva Marie continues striving in her in-ring training despite some non-supportive fellow Divas. Rosa is faced with the challenge of sorting out her professional life while being pregnant with her first child. Alicia cautiously enters into a new romantic relationship. Nattie continues figuring out married life while struggling with feeling like the younger Divas careers are evolving and thriving more than hers. Mandy eagerly joins the division to be hit with the reality that being pretty don't make you a WWE Diva. She has a long road of training to gain respect of the fellow Divas and the WWE Universe.
The season premiere episode picks up where last season left off with WWE Superstar Dolph Ziggler trying to kiss Nikki Bella. Nikki wants to find the best time to tell her current boyfriend, WWE Superstar John Cena about her ex-boyfriend Dolph Ziggler trying to kiss her. Nikki's time to tell John is possibly cut short when Dolph insists that he tells John about what happened. WWE Superstar Daniel Bryan haven't been cleared to wrestle in the WWE so Brie wants her husband to explore other options outside of wrestling. Brie fears for his health as a wrestler and hopes other opportunities will start a new chapter in his life but Daniel really wants to get back in the squared circle.
Last season, we saw that Nattie's husband, WWE Superstar Tyson Kidd sustained an injury. You'll see Nattie worry about her husbands serious injury and what all it entails to repair the injury. Paige is wrestling with trying to find the right time to tell her fiance Kevin Skaff, lead guitarist and backup vocalist for the band A Day To Remember, that she doesn't want to be engaged.
This episode was during the Divas Revolution and majority was filmed during the Beast in the East in Tokyo, Japan. The season premiere focuses on following the lives of Nikki Bella, Brie Bella, Paige and Nattie. Alicia Fox does make appearances in the episode but the other casted Divas were neither mentioned nor shown yet.
In the premiere, Nikki finds out John's reaction to Dolph flirting with her and Paige finds out Kevin's reaction to her not wanting to be engaged. To witness both these can't miss moments and more, you'll have to tune in to watch the season five premiere of "Total Divas" on January 19th at 9pm ET/PT on E!.
Disclosure: I received early access to view and review this show, but no monetary compensation. Reviews are based on personal opinion. Individual viewer opinion may vary. Comments concerning reviews from viewers about their opinion are encouraged and welcome through the comment board.