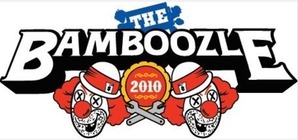 Get ready to rock! Bamboozle Festival 2010 is almost here!
The Bamboozle Festival 2010 is a rock event held in three locations: May 1-2 at the East Rutherford, N.J. Meadowlands Sports Complex; March 27-28 at Angel Stadium in Anaheim, Calif.; and May 15 at Charter One Pavilion in Chicago, Ill.
Tickets cost $57 for a single day, $104 for a two-day pass and $116 for a three-day pass. A three-day VIP pass is for $300, which will get you access to a festival kickoff party, the Bamboozle VIP lounge, a complimentary ticket to their Hoodwink event and some other cool perks. If you were hoping to get a three-day VIP pass, too late – they are already sold out.
Make sure you hurry and get your tickets.
Below check out the full Bamboozle New Jersey Festival 2010 lineup.
May 1
Paramore
Drake
Kesha (performing a special set both days)
Angels and Airwaves
Hanson
The Maine
Bullet for my Valentine
The Aquabats
100 Monkeys
Architects
Asking Alexandria
Attack Attack!
The Bled
Bobby Long
David Garabaldi
Dirt Nasty
DJ Prime
Eclectic Method
Emmure
Escape the Fate
Far East Movement
Four Year Strong
Gregory Schwartz
I See Stars
I Set My Friends on Fire
The Jason Bishop Show
Let's Get It
MC Mr. Napkins
Mike Posner
Miss May I
My Favorite Highway
Of Mice & Men
Owen Benjamin
Paper Tongues
The Pretty Reckless
Protest the Hero
The Ready Set
Relient K
Rob Riggle
Roxy Cottontail
Sailesh the Hypnotist
Saves the Day
Secret Secret Dino Club
Skeet Skeet
Stephen Jerzak
T. Mills
This Century
VersaEmerge
We Came as Romans
The Word Alive
May 2
Weezer
MGMT
Kesha
Girl Talk
Matt & Kim
Mute Math
Say Anything
Motion City Soundtrack
Kevin Devine
Piebald
88 Keys
All Get Out
All the Day Holiday
Arj Barker
Boaz
Cara Salimando
Champagne Champagne
David Garabaldi
The Dear Hunter
Eclectic Method
Eye Alaska
Francis and the Lights
Fun.
Gabriel the Marine
Good Old War
Gregory Schwartz
Grieves
Hey Monday
The Jason Bishop Show
Kuroma
MC Chris
Minus the Bear
Moving Mountains
Nevershoutnever
OK Go
The Parlor Mob
Polar Bear Club
Sailesh the Hypnotist
Sainthood Reps
Sean Price
Steel Train
The Summer Set
Twin Atlantic
Wale
Winston Audio
Wiz Khalifa
For more infomation and to purchase tickets to Bamboozle New Jersey, visit http://party.thebamboozle.com/profile/TheBamboozleNewJersey.