Photo Credit: verykool.net
Show
your love for technology this Valentine's Day! Below are some hot
technology gifts to ensure that your tech-savvy sweetheart has a
terrific tech-filled holiday!
NETGEAR Nighthawk X6 AC3200 Router
http://www.netgear.com/home/products/networking/wifi-routers/R8000.aspx
The
Nighthawk X6 AC3200 Router delivers the fastest combined WiFi speed
with up to 3.2Gbps and includes 6 high performance antennas for maximum
range throughout your home. You'll get the necessary speed for every
device through Smart Connect. Smart Connect automatically connects
slower and faster devices in separate WiFi network for optimal
performance. Whether streaming, gaming or just surfing the web, your
whole family is sure to enjoy uninterrupted entertainment with the
NETGEAR Nighthawk X6 AC3200 Router.


Brookstone Pocket Projector Pro – 200 Lumens
http://www.brookstone.com/200-lumen-pocket-projector-pro?bkiid=SubCategory_Travel_Travel_Gadgets_Portable_Projectors|SubCategoryWidget|864129p&catId=
The
Brookstone Pocket Projector Pro is mega-bright 200-lumen projector that
delivers a beautiful big picture. This portable projector has a LED
lamp that projects images up to 100″ diagonal and lasts for up to 20,000
hours. It easily connects via an HDMI cable to most smartphones,
tablets, computers, video players, cameras and more. You'll always have a
clear image with the built-in focus adjuster and amazing sound quality
thanks to dual speakers with volume control. So cozy up with your
Valentine and enjoy clear HD movies, home videos or games with the
Brookstone Pocket Projector Pro!
Photo Credit: brookstone.com


verykool s5511 Juno Quatro Android Smartphone
https://www.verykool.net/Products/s5511
The
verykool s5511 Juno Quatro is an unlocked Android smartphone that runs
on Android 4.4 Kit Kat. The s5511 has a large 5.5-inch LCD touch display
and an ultra slim 3mm bezel. It features a fast 1.3GHz Quad-core CPU
and 4GB internal storage. This is great for saving and enjoying all your
favorite apps. You'll take picture perfect photos with the 8 megapixel
rear camera and 2 megapixel front camera or high quality videos in 720
HD. The verykool s5511 is a feature packed affordable phablet perfect
for business and entertainment.


Plantronics Voyager Legend Wireless Bluetooth Headset
http://www.plantronics.com/us/product/voyager-legend
Plantronics
Voyager Legend is a comfortable and durable behind-the-ear wireless
Bluetooth headset that is packed with numerous features. You just easily
pair it with your Bluetooth-enabled smartphone and enjoy! Some of the
legendary features included are announcements about who's calling, the
ability to respond to these announcements by saying "answer" or
"ignore," can pause music for incoming calls and allows you to
automatically answer by placing the headset on your ear. One feature
that really makes the Voyager Legend legendary is the inclusion of multi
microphones. The multi microphones optimizes your voice and minimizes
noise caused by wind, movement, and background sounds. It's time to
start having more enjoyable uninterrupted conversations anywhere and at
anytime with the Voyager Legend!


Lexar JumpDrive M20 Mobile USB 3.0 Flash Drive
http://www.lexar.com/m20-mobile
The
Lexar JumpDrive M20 Mobile USB 3.0 Flash Drive is a 2-in-1 micro-USB
and USB 3.0 drive that makes it quick and easy to transfer and share
files. The photos, music, videos and other files can be transferred
between your Android tablet, smartphone, or computer. It's perfect to
use when your traveling because it doesn't require any data connection
or power to work. This drive also allows you to offload lots of content
from your tablet or smartphone to create more storage room and back up
important files. The Lexar JumpDrive M20 Mobile USB 3.0 Flash Drive
transfers files between mobile devices without cables or Wi-Fi and
keeping your files safe while on-the-go.


Impecca Bluetooth Compact Wireless Bamboo Keyboard
http://www.impeccausa.com/bamboo-bluetooth-keyboard.html
The
Impecca Bamboo Bluetooth Keyboard is a slim, portable full-sized
wireless keyboard made completely of bamboo. It has 78 smooth and
comfortable keys to use on most Bluetooth compatible tablets and
smartphones. The Bluetooth receiving range is up to 35 feet. The
keyboard has a built in rechargeable lithium-ion battery that lasts up
to 30 days on a single charge. It will automatically go into sleep mode
when not in use to ensure that you get to enjoy every bit of the
battery. The Impecca Bamboo Bluetooth Keyboard is a beautiful compact
wireless keyboard that adds eco-friendly style to any workspace.


iLuv Selfy Case with Built-in Wireless Camera Shutter
http://www.iluv.com/selfy/
The
iLuv Selfy is a durable case that keeps your phone safe plus allows you
to take photos and videos easier than ever before. The wireless remote
shutter allows you to take pictures and videos with your phone from a
distance. The remote can be stored in the back of the case and slides
out for use. You just pair the remote to your phone via Bluetooth. There
is no software or app installation required, which leaves more room on
your phone for photos and videos. Always take picture perfect selfies
and group photos with the iLuv Selfy!
Photo Credit: iluv.com


Skinit InkFusion Pro Case for Samsung Galaxy S5
http://www.skinit.com/cases/samsung-galaxy-s5-cases/galaxy-s5-inkfusion-pro-case
Skinit
is the best place for personalized skins for your cellular phones,
iPod, MP3, game devices and more. You'll keep your Samsung Galaxy S5
completely protected with the InkFusion Pro Case. The InkFusion Pro Case
is fully customizable and durable. It's a 2 piece ThermoPlastic Polymer
Fusion Case that has a vivid and sharp image of your choice on the
back. Choose from countless design choices or upload your own unique
image. Skinit InkFusion Pro Case allows you to show your love for your
favorite sports team, superhero or cartoon with the included design
choices or show your love for your sweetheart by uploading a lovely
picture perfect photo.


Puregear Dualtek Extreme Shock Case – iPhone 6
http://www.pure-gear.com/shop-by-device/iphone-6/dualtek-extreme-shock-case-for-iphone-6.html
There
is a lot to stress over in life but don't let dropping your phone be
one of them. The Puregear Dualtek Extreme Shock Case provides the best
in extreme shock protection. The 360 Degree Protection protects against
all dings and scratches. The corners even are shock absorbing by
isolating vibration. The Puregear Dualtek Extreme Shock Case is super
strong in a slim, sleek and stylish design.


Incipio
http://www.incipio.com/
Incipio
is the leading designer and manufacturer of mobile device accessories
and technology. Below are stylish and functional cases for either your
Samsung Galaxy S5 or iPhone 6.


Watson Folio with Removable Cover for Samsung Galaxy S5
http://www.incipio.com/watson-wallet-folio-samsung-galaxy-s5.html
The
Watson Folio with Removable Cover for Samsung Galaxy S5 is a 2-in-1
vegan leather cover with folio and detachable feather case. The vegan
leather cover protects your whole device and the included three card
slots allow you to easily carry credit cards, ID or other cards. The
Watson Folio with Removable Cover provides full coverage for your
Samsung Galaxy S5 and a storage solution for your essentials.


Stowaway Credit Card Case with Integrated Stand for iPhone 6
https://www.incipio.com/cases/iphone-cases/iphone-6-cases/stowaway-credit-card-case-with-integrated-stand-iphone-6.html
The
Stowaway Credit Card Case with Integrated Stand for iPhone 6 is a tough
and stylish case with a back compartment to hold up to three credit
cards or pieces of ID. The case is constructed with a Flex2O soft-shell
core that provides superior shock absorption and device protection.
Easily put the case in Kickstand mode for hands-free viewing of photos,
videos and more. The Stowaway Credit Card Case with Integrated Stand is
the perfect solution for protecting your iPhone 6, storing your cards
and enjoying your media.


iStabilizer Monopod
http://www.istabilizer.com/products/istabilizer-monopod
The
iStabilizer Monopod gives you the ability to improve your self
photography and enhance your overall mobile photography. It can be used
on any tripod with a standard 1/4 x20″ camera mount and has a dimension
of 1.5″ x 2″ x 15″. It works with virtually all Smartphones and POV
cameras including GoPro, Countour, Drift and light camcorders. This
strong and sturdy monopod extends to over 3 feet and was constructed out
of aircraft grade aluminum. You'll never have a great photo be
impossible or out of your reach with the iStabilizer Monopod.


ChicBuds Clutchette Power Coral
http://chicbuds.com/all-products/clutchette-power-coral.html#.VN09oOoo4wg
The
Clutchette Power by ChicBuds is a stylish bag that also charges your
phone. The Clutchette features a thin battery with USB cables plus
plenty of room to carry essentials like your credit card, keys, lipstick
and more. It's cute enough to carry alone but small enough to carry in
your bag. The Clutchette Power Coral is perfect for a fashionable active
user who needs their device to keep powered up anywhere and everywhere.
Photo Credit: chicbuds.com


Michael Kors Duracell Powermat Kit for iPhone 5/5s – Mandarin/Raspberry
http://www.michaelkors.com/duracell-powermat-kit-for-iphone-5-5s/_/R-US_32H4GELP2P
The
Michael Kors Duracell Powermat Kit is the result of a beautiful
partnership between fashion designer Michael Kors and Duracell. The kit
includes a PowerCase and Powermat that ensures that your iPhone 5/5s is
always charged. The Powermat recharges your phone and the PowerCase
faster than an power outlet and wirelessly. The Michael Kors Duracell
Powermat Kit is a great way to keep your iPhone 5/5s charged and look
stylish while doing it!


iLuv myPower 10400mAh Portable Dual USB Port Charger Battery Pack Power Bank
http://www.iluv.com/product_list.asp?page=2&icd=MYPOWER104&pcd=I2552
The
iLuv myPower 10400 is all that you need to keep your devices charged
while on the go. The 10400mAh battery capacity allows this battery pack
to fully charge nearly any USB device multiple times. The myPower 10400
is equipped with two USB ports to charge two devices at once and
features four convenient LED indicators that let you know the remaining
charge left within the battery pack. The included built-in LED
flashlight is ideal for emergency situations. The myPower 10400 is a
powerful battery pack perfect for keeping all your devices charged.


Puregear Universal Tablet Folio – 7″ to 8" tablets
http://www.pure-gear.com/shop-by-device/iphone/universal-tablet-folio.html
The
Puregear Universal Tablet Folio is a safe and stylish way to carry your
device. The magnetic closure and flexible bands hold the tablet secure.
This security comes in handy when you prop it into a stand for
hands-free viewing. It also features storage for your documents and
cards and a pen or stylus holder. The Puregear Universal Tablet Folio
allows you to worry less and travel light by keeping all your essentials
stored safely.


DxO Optics Pro 10
http://www.dxo.com/intl/photography/photo-software/dxo-opticspro
DxO
Optics Pro 10 is the latest photo editing software release by DxO Labs.
This software enhances and improves your photos automatically using
advanced algorithms and techniques. The features included removes noise,
optimize exposure & contrast, boost colors, enhance details and
remove lens distortion in your RAW and JPEG images. With the use of DxO
Optics Pro 10's presets, you'll easily apply corrections crafted by DxO
Labs to your images. Also try creating and saving your own presets to
apply to countless images. After editing your beautiful photos, your
going to want to share them! With the Export to Flickr and Export to
Facebook features, your spectacular photos will be shared in a flash.
DxO Optics Pro 10 will quick and easily take your good photos and make
them grand!


Sharetapes
http://www.sharetapes.com/
Sharetapes
are credit-card sized tapes that makes sharing digital media fun and
cool! These tapes blend the past concept of mixtapes with today's
digital media domination. Sharetapes allow you to share your favourite
online playlists from services like YouTube, Spotify, 8tracks, Pandora
and more. You'll purchase a set of blank Sharetapes and then go online
to create a playlist on Spotify, Youtube, 8tracks and more. Now just add
the playlist to a tape by clicking record at sharetapes.com. Lastly
give the Sharetape to someone to play by either tapping with NFC,
scanning the QR code or hitting play at sharetapes.com. It's time to
share the music you love with someone you love using Sharetapes!


Monster Superstar High Definition Bluetooth Speaker
http://www.monsterproducts.com/SuperStar_High_Definition_Bluetooth_Speaker
The
Monster Superstar is a small speaker with big high quality sound! It
weighs in at only 8 oz and has a sleek 5" by 2.5 " shape. It features
two full range high definition speakers and two bass radiators for
providing unbelievable bass. It's great for an active lifestyle because
it has a tough, durable, shockproof silicone protective shell. It even
has an IPX-4 splash protection rating. The SuperStar is wireless with a
built-in microphone. It can wirelessly connected to your smartphone to
play your favorite media as well as make crystal clear hands-free phone
calls. You'll enjoy over 5 hours of media with the integrated
rechargeable lithium Ion battery. The Monster Superstar is the ultimate
on-the-go speaker for providing a superstar quality listening
experience.


Ultimate Ears UE MEGABOOM – Lava Red
http://www.ultimateears.com/en-us/megaboom
Ultimate
Ears took the already impressive UE BOOM and made it jaw dropping! The
UE MEGABOOM takes the size, sound and battery life of the original to
the max! You'll enjoy high quality 360° sound for up to 20 hours on a
single charge. You can feel free to move and groove for up to 100′ and
still keep your Bluetooth connectivity. If you purchase a UE BOOM or a
second UE MEGABOOM, you can wirelessly connect them to really pump up
the volume! This Valentine's Day give the person in your life that makes
your heart go BOOM a UE MEGABOOM!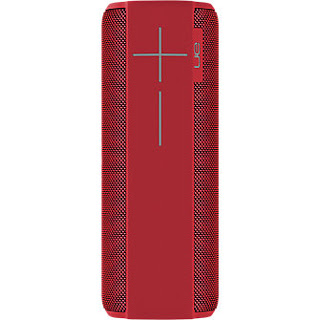 Photo Credit: ultimateears.com


iLuv TimeShaker Micro
http://www.iluv.com/product_list.asp?page=2&icd=TSMICROUL&pcd=I2500
iLuv
TimeShaker Micro is just what you need to get up and moving! This
compact alarm clock allows you to choose from multiple alarm options.
One unique alarm option is a shaker that fits under your pillow and
vibrates to wake you up. This is a great way to use an alarm to wake you
up without disturbing anyone else in the room. The stereo speakers
allow you to enjoy your favorite FM radio stations or you can stream
music from your phone via Bluetooth. The TimeShaker Micro is a stylish
compact alarm clock with speaker that will shake up how you wake up!


Altec Lansing Bluetooth Shower Speaker
http://www.alteclansing.com/al-products/shower-speaker/
Altec
Lansing Bluetooth Shower Speaker allows you to listen to music and even
answer phone calls while showering. The Shower Speaker is water
resistant and has a built-in, no-slip strap to easily hang in the
shower. The integrated microphone eliminates the sound of water so you
can make calls in the shower without anyone knowing that your in the
shower. The rechargeable lithium-ion battery lasts for 5 hours so even
during a shower you'll stay connected!


Flips Audio HD650 Over-Ear Headphones (Black)
https://www.flipsaudio.com/Flips-HD.dtm
The
Flips Audio HD650 Over-Ear Headphones are a headphone & speaker in
one! You can either listen in solo mode with the ear cups to your ears
or flip them out to activate speaker mode for sharing your music with
others. The light and compact design folds neatly into the included
protective case. Whether you want to enjoy your media alone or with
friends, both enjoyable listening experiences are just a flip away with
Flips Audio!


Monster N-Tune On-Ear Headphones (Candy Red)
http://www.monsterproducts.com/N-Tune_On-Ear_Headphones_3#productDetailsTabs1
The
Monster N-Tune On-Ear Headphones are lightweight and colorful high
performance headphones. It has a comfortable on-ear design and variety
of colorful choices to suit your look. It delivers high quality sound
with pounding bass to ensure you don't miss a beat! Use the fingertip
phone control with on-cable ControlTalk for easily controlling your
music and phone calls. The Monster N-Tune On-Ear Headphones are sure to
keep you in tune as you enjoy your favorite media.


Sol Republic Master Tracks XC Over-Ear Headphones
http://solrepublic.com/master-tracks-xc-studio-tuned-by-calvin-harris.html
Sol
Republic Master Tracks XC are over-ear headphones that have been
studio-tuned by chart-topping singer, producer and DJ Calvin Harris. The
headphones produce an extremely powerful high quality sound with
incredible vocal clarity. Use the inline microphone and music controls
to adjust the volume, pause/resume/skip music and answer/hang-up calls.
The high clarity mic ensures that even word spoke is heard. The
noise-isolating ear cushions allow you to enjoy your music in comfort
for hours. Master Tracks XC's headband was constructed of an advanced
polymer compound. The FlexTech Sound Track headband was built to be
virtually indestructible. You can protect and transport the headphones
with the included Slim-Fit water-resistant carrying case. Experience and
enjoy studio quality sound with Sol Republic Master Tracks XC Over-Ear
Headphones.
Enter to win Sol Republic Master Tracks XC Headphones SIGNED by Calvin Harris! https://www.rafflecopter.com/rafl/display/0ee9e47b1/
Update 02/20/15:
The contest is over! Congratulations Linda! Thank you to everyone who
entered the Sol Republic Master Tracks XC Headphones Signed by Calvin
Harris Giveaway!
Photo Credit: solrepublic.com


SMS Audio In-Ear Wired Sport Headphones – Pink
http://smsaudio.com/products/street-by-50-in-ear-wired-sport
The
SMS Audio In-Ear Wired Sport Headphones are great for a person with an
active lifestyle. The headphones are sweat-proof and the ear hook design
provides a secure comfortable fit. They also have tangle-free cord with
a full-functioning MFI three-click microphone. The SMS Audio In-Ear
Wired Sport Headphones delivers high performance audio with passive
noise-cancellation to ensure you get the most out of your media.


JLab Audio Epic Bluetooth Earbuds
http://www.jlabaudio.com/collections/bluetooth/products/epic-bluetooth-earbuds
JLab
Epic Bluetooth Earbuds are high-performance, lightweight and
long-lasting wireless earbuds. You'll get to enjoy your media and
conversations longer with up to 10 hours of battery life. The ear hooks,
cable mini-clips, six gel tip sizes and revolutionary Memory Wire makes
wearing these earbuds for up to 10 hours completely comfortable. The
earbuds are 100% splash-proof, sweat-proof and washable with an IPX4
rating. So whether your making calls or listening to music, the JLab
Epic Bluetooth Earbuds are built to last long and deliver an epic
listening experience!


PDP Rock Candy Wired Xbox One Controller in Stormin Cherry
http://www.pdp.com/Rock-Candy-Wired-Controller-Stormin/dp/B00MY8BJOM
The
PDP Rock Candy Wired Xbox One Controller is a sweet colorful
controller. It features colored polycarbonate shells, white accents and
all the other controller essential components. As your gaming, you'll
enjoy the SmartTrack analog stick technology, vibration feedback rumble
motors and concave thumb stick design. So give your gamer Valentine the
candy they want this year with a PDP Rock Candy Wired Xbox One
Controller.


Power A Xbox One Charging Station
http://powera.com/Products/FLAG_NEW/ACC_CHARGER_CABLE/Xbox-One-Charging-Station
The
Xbox One Charging Station by Power A allows you to keep your
controllers charged at all times and ready to game! By charging with
station you'll use the AC adapter, leaving your console's USB ports
free. You'll always know your controller's power status with an
on-screen battery indicator and LED charge indicator lights. The Power A
Xbox One Charging Station two rechargeable batteries eliminates the
need for disposable batteries. This means more money for purchasing
video games and fully charged controllers for nonstop gaming. An
essential charger for any Xbox One gamer!


Staples Space-Saver 10-Sheet Cross-Cut Shredder
http://www.staples.com/Staples-reg-Space-Saver-10-Sheet-Cross-Cut-Shredder-Black/product_56327
The
Staples 10-sheet cross-cut paper shredder will help clear your place
without taking up space. The shredder is simple to use thanks to the
hassle-free paper feed and easy emptying bin. It has a 5.0 gallon bin
for holding shredded paper, staples and credit cards. The Staples
Space-Saver 10-Sheet Cross-Cut Shredder is ideal for completing that New
Year's Resolution of getting organized or even for an anti Valentine's
Day of getting rid of unwanted memories of an old Valentine.


Hope you have a terrific tech-filled Valentine's Day!




Disclosure: I received samples to review these products, but no monetary compensation. Reviews are based on personal experience and personal opinion. Individual user opinion may vary. Comments concerning reviews from users about their experiences are encouraged and welcome through the comment board.