Walt Disney has a new princess, Princess Tiana, and is throwing a party to celebrate!!!
This party is rightfully titled "The Ultimate Disney Experience"!
Here is what the "The Ultimate Disney Experience" consist of:
First you see the film. The Princess and the Frog is set in the great city of New Orleans. From the creators of "The Little Mermaid" and "Aladdin" comes a modern twist on a classic tale, featuring a beautiful girl named Tiana (ANIKA NONI ROSE), a frog prince who desperately wants to be human again, and a fateful kiss that leads them both on an adventure through the mystical bayous of Louisiana.
Following the film, fans on both coasts will be treated to The Ultimate Disney Experience, an exciting extravaganza that features for the first time ever—all nine of the Disney princesses (including Disney's newest princess Princess Tiana), as well as exciting Bayou games, crafts, movie archives, how-to presentations from Disney animators, Studio tours (for L.A. guests) and more.
The Ultimate Disney Experience is being held at Sound Stage 3 at the Walt Disney Studios lot and at the Ziegfeld Theatre's Roseland Ballroom in New York City.
I had the pleasure of attending The Ultimate Disney Experience at the Roseland Ballroom in NY.
Here are some pictures and some notes of my experience:
The Roseland Ballroom is a massive place. Typically music concerts are held there. Being that the place is so massive, it was perfect for the full floor-to-ceiling scenery and props and bringing New Orleans to life.
In the main ballroom area is where you find the princesses. All of the princesses are set up in carts around the ballroom. The carts contains a background that reflects that princesses film.
Princess Tiana is center stage on a large platform of her own.
Are you ready for fun and games?
The Bayou Adventure, a playground. Kids can bounce from lily pad to lily pad. The play area also features tire swings, a slide, a mini-obstacle course and more. Next to the Bayou Adventure is Tiana's Crafts,(one of my personal faves). From coloring Princess and the Frog color pages, making masquerade masks, paper tiaras to origami frogs, you can really let your creativity out here.
Upstairs the experience continues!!! A Disney animator conducts the Learn to be a Disney Animator class (another one of my personal faves), green-screen photo opportunities where you can have yourself imposed in a choice of three different backgrounds from the film as well as a large selection of wardrobe, props and more from the Walt Disney Studio Archives.
Overall this is a wonderful and fun-filled experience. There is always something to see around every turn and many activities to take part in. All of the Princesses likeness and/or mannerisms are uncanning. Be sure to bring your own cameras to take pictures because there aren't any photographers on staff and you have to get a photo of your child meeting their favorite princess!
The folks of Disney created a great event that should be experienced by all!
Here is the ticket information:
Group general admission tickets (for groups of 20 or more) are $20 each, general admission tickets are $30 each, and royal seating (a reserved seat, "The Princess and The Frog" Mardi Gras beads and an exclusive limited-edition collectible lithograph from "The Princess and The Frog") is $50 per ticket. Several shows will be presented daily on both coasts from Nov. 25-Dec. 13; show times are 10 a.m., 1 p.m., 4 p.m. and 7 p.m., with a 9:30 p.m. show available on select dates. Visit www.princessandfrogtickets.com for more details.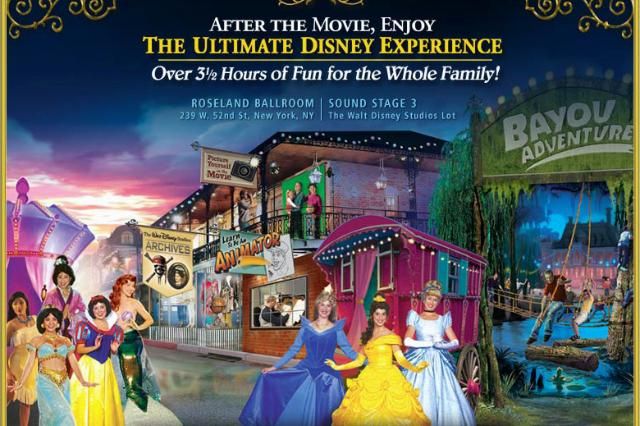 Disclosure:
I received free tickets in order to review the experience, but no monetary compensation. Reviews are based on personal opinion and not influenced in any way. Comments concerning reviews from attendees about their opinion is encouraged and welcome through the comment board.