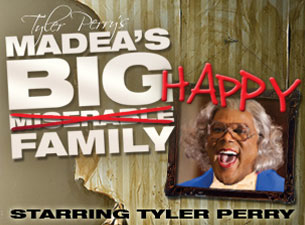 Madea is back and the Theater at Madison Square Garden was more than ready to see her!
Tyler Perry brought back the musical play "Madea's Big Happy Family." The play was showcased on a high-tech set that revolved around the stage to create the different scenes for the cast.
The play centers around a woman named Shirley, who's had a six-year battle with cancer finds out the disease is back. If being her final days isn't enough on her mind, her families life is in disarray. Shirley calls upon Madea to bring her family together to brace them with accepting her inevitable death.
The family needs help badly. There's manless mommy's girl Joyce; the wannabe street thug for his gold digger girlfriend Byron; angry booshie real estate agent Kimberly, husband abusing Tami; and the 17 year old 6th grader Donnie.
While Shirley is trying to get the family together so she can break her news, drama arises that threatens to shake up everything for the family.
The play is the perfect mix of acting, singing, and Madea (yes she's a category of her own). Madea is this larger than life character that says and does anything she wants. I mean really who could stop her? The funniest part is when Perry breaks character and starts speaking directly to the audience. He does this often. He calls out the latecomers, ad libs current events ("Pants on the ground" made it in) and don't even dare try and take picture/video with your phone, he will see you. At the show I attended someone tried and use their iphone and Perry said, "You better put away that iPhone before it becomes my phone." So, make sure you get to the show on time and keep your phone in your pocket and you're in for a good time!
Everyone in the cast can sing (and I mean REALLY SING) and you really get to hear it because everyone gets a solo (even Perry). Besides Perry, other recognizable cast members includes Cassi Davis (from Perry's "House of Payne") and singer Cheryl 'Pepsii' Riley.
The play turns into a party at the end with a sing-a-long of R&B tunes which covered everyone from Earth, Wind and Fire to Luther Vandross. It's safe to say Madea is back and better than ever!
Disclosure:
This is a live review of Tyler Perry's 'Madea's Big Happy Family' play from October 16, 2010 at 8pm at the Theater at Madison Square Garden. I was not compensated for this post. Reviews are based on personal opinion and not influenced in any way. Comments concerning reviews from attendees about their opinion is encouraged and welcome through the comment board.